A new idea is now being tested: Offer websites for rent instead of selling them.
Why should what works in the real estate market not work for the Internet Market? The client has no "investment" cost, is on-line immediately and knows exactly what he gets. The developer on the other hand, can let its creativity go wild and program without constraints. A win-win situation!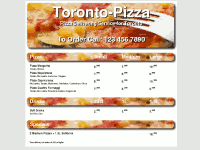 Bracher-Automation just released its first website that will be offered for rent:
Toronto-Pizza
.
It is a simple one page website that displays the menu and the phone number of a pizza delivery service. The lessee will have the possibility to edit the content using MyFtpWebEdit.